Lifestyle Tips
If you are relocating to the US Virgin Islands, there are plenty of things to learn. Living in the Virgin Islands is an exceptional way of life. Here are some things to keep in mind…
Weather in the VI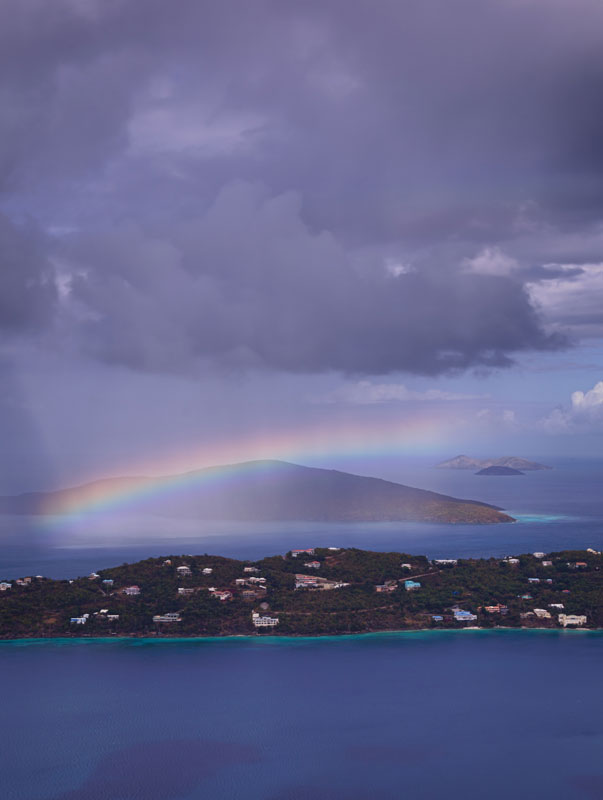 While the average temperature, measured across the year, is statistically in the low 80's, the temperature is frequently in the 90's and then there's humidity. Seldom a day goes by that a Virgin Islands' weather forecast doesn't begin with "A chance of showers…" It rains almost every day in the VI, but it's usually over in minutes, sometimes in seconds. It's one of those places where you can actually watch it rain across the street, but not on you. You seldom see umbrellas here, unless used for sun, and if you had a poncho, chances are you wouldn't wear it. It's too hot.
If very warm temperatures are a new phenomenon for you, know that you're bound to adjust. Air conditioning is not necessarily a given. Many homes have it, but some don't. It can be quite expensive (see WAPA below). Since a great deal of the lifestyle here is outdoor living, and often different rooms in a home are accessed through patio walkways, there's a tendency to leave the doors open and float in and out. The breeze can be wonderful! Whether you're searching for a luxury waterfront St Thomas home, or a St Thomas condo that offers convenience and affordability, you'll enjoy soaking in the warm weather and Caribbean breezes.
Driving in the VI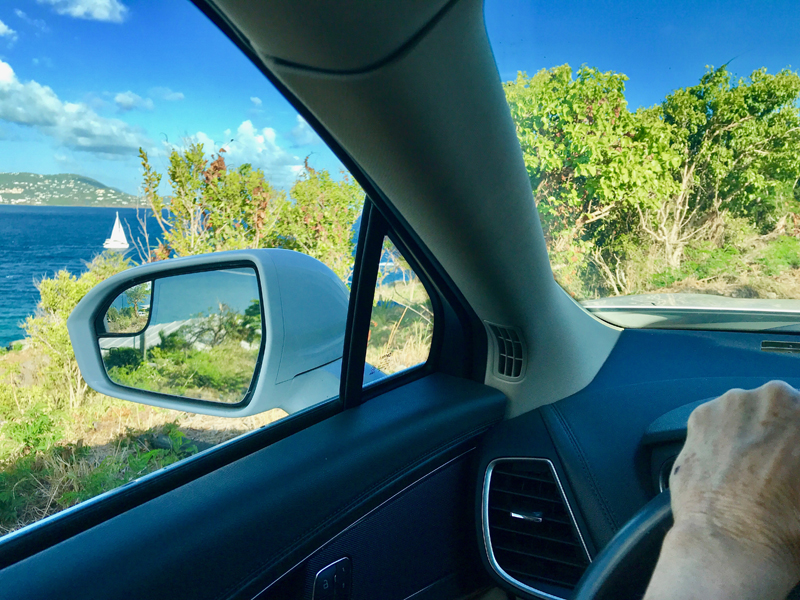 If you are moving to the Virgin Islands from the US, keep in mind, we drive on the left here, but you'll get used to it. We all do. Suggestion – every time you reach an intersection, or a turning point, where your instincts suddenly compel you to join the familiar right-hand lane, just mumble to yourself, "stay on the left, stay on the left." If you have kids in the car – turn it into a game. They'll be great at backseat driving, and you'll be safer.
Moving to St Thomas means relying on a different system to find your way around. There are hardly any street signs on St. Thomas or her sister islands. Maps will reference route numbers, and signs with route numbers are posted on some roads thus occasionally supporting your navigational efforts, but don't think anyone will have a clue if you ask for directions to route such 'n such. GPS can be handy in many cases. Otherwise, you're guided by references to landmarks, like the "pink whale" or the "red devil" or the old stone pillar on the right, etc…etc… If you do get lost, you'll eventually wind up somewhere familiar. And while you're lost, chances are you'll be enjoying breathtaking scenery.
Groceries
There's usually sticker shock at the grocery store for people who are moving to the Virgin Islands. Keep in mind, virtually everything you see on the shelves comes in on a boat or a plane. That costs money. We have two bulk shopping options, both located in Tutu in the center of St Thomas. Price Smart and Cost U Less – the latter being rebuilt following the 2017 storms. You'll find all kinds of groceries and life essentials here, at reasonable prices. Fresh produce, however, is not always fresh. There are a few groceries on island that specialize in good produce, meats and fish. Ask around and figure out which one is closest to you.
Water
Our homes are built with cisterns, whether they are luxury homes on St Thomas or more modest homes. Cisters are filled by rainwater that hits the roof and is then disseminated through a system of gutters and pipes into an underground storage tank – made of concrete. Many residents put a dollop of bleach into their cisterns each month to help keep the water clean. You can purchase simple or more elaborate ultra-violet water filtration systems if you want to use your tap water for drinking. If your cistern runs dry, as some do from time to time, you can call a water company to bring a load of water to fill it up. It's a good idea to clean out your cistern every several years.
WAPA – aka Electricity
Our Water and Power Authority (WAPA) is the utility system that provides electricity to residents. (A few residents, most residing downtown, receive public water through WAPA.) WAPA still relies on oil, hence our price per kilowatt hour for electricity exceeds that of most communities in the mainland US. Expect to pay some 30-cents or more per kilowatt hour, as well as additional charges, that can make air conditioning an expensive proposition in the islands. There are several solar companies operating in the VI, and more and more homes have installed solar panels to mitigate the VI's high electric costs.
Schools
In addition to the public school system, there is an assortment of independent and parochial schools to select from on St. Thomas. Here are some possibilities, in alphabetical order:
Doctors & Hospitals
For people who are moving to the Virgin Islands and wondering about critical services, know that there are hospitals on St. Thomas and St. Croix, and there is a clinic, which operates as a division of the St. Thomas hospital, on St. John. (See links below.) Residents of all islands can access a selection of medical practices, whose physicians range from pediatricians to gynecologists to internists.
STT/STJ: Schneider Regional Medical Center: www.rlshospital.org
STX: Juan F. Louis Hospital & Medical Center: www.jflusvi.org
In the wake of the 2017 storms, our hospitals continue to operate, but in a more limited capacity. Elective surgery may not necessarily be easy to schedule.
Many residents living in the Virgin Islands purchase a plan to assist them in the event of dire medical emergencies. AeroMDis one such service. AeroMD offers a medically equipped plane with ICU capabilities, staffed by a respiratory therapist and an emergency medical nurse or technician, and in some cases, an MD.AeroMD airlifts patients to the mainland should the local hospital be unable to meet their emergency needs. Check out the website at: www.aeromd.com
Stylists, Gyms – the Essentials!
Relocating to the US Virgin Islands? Afraid of leaving behind those very people who help make you-you? There are some great stylists on island, as well as assorted spa services, along with medical cosmetic services and specialists. For exercise enthusiasts, there's a selection of work-out options – such as the state-of-the-art gym at Antilles School for anyone wishing to have a membership, to a cycling club for bikers, as well as personal trainers, Cross Fit and yoga centers. This is paradise, after all. Barbara will gladly steer you to some the salons and individuals or organizations which can pick up where your relocation left off.