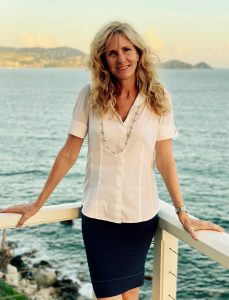 Living in the Virgin Islands is an experience I look forward to sharing with you, whether you're relocating to St. Thomas for good, only staying for a while or investing in the island's economy.
Journalism to Real Estate
As a trained journalist, I approach my work as a Realtor in the Virgin Islands with a unique perspective. For me, it's all about paying close attention to my clients' individual needs and concerns – weighing both sides of a decision so that impulse and passion will combine with the realities of island dwellings and ultimately island life.
If you are completely new to the Virgin Islands, I go beyond the usual Realtor duties and work to help make sure you settle into your new home comfortably. Thanks to my local network and island knowledge, I can refer you to an array of professionals on St. Thomas, from hairdressers to handymen, cistern cleaners to house cleaners.
If you are currently living on St. Thomas and looking to buy or sell, or to pursue other real estate ventures, I'm happy to partner with you in examining your short and long-term goals and, in the process, deliver an enjoyable and successful real estate transaction.
Your Island-Life Realtor
Imagine waking up to gentle tropical breezes, palm trees and the sparkling blues of the Caribbean. This is the daily tableau almost everywhere on St. Thomas and throughout the rest of the US Virgin Islands. It's an image that continuously beckons home-buyers, holidaymakers, and real estate investors from all over the globe.
Since 2007, I've been helping people achieve their respective real estate goals in the Virgin Islands. It doesn't matter if you're new or you've been here for a while. Whether you're buying or selling, let me narrow down your options so your transaction will best suit your finances and compliment your lifestyle
Relocating to the Virgin Islands? Let me show you around St. Thomas, an ideal place to live in the archipelago. Scattered around the island are various communities where you can find a single-family home, villa, luxury estate, or beachfront condo tailored to you.
Selling your home? I will work with you to make sure your home is priced right in the marketplace, and then I will concentrate on finding you a qualified buyer as quickly as possible through local and when appropriate, international channels.
Investing in Virgin Islands real estate? St. Thomas is one of the best places in the US Virgin Islands to invest in second homes, vacation properties, rentals, as well as land. Let's discuss your investment plans, and find a match for just what you're envisioning.
While purchasing property sight-unseen is never the best option, if it's your only option, let me offer you the level of detailed service that will be the best possible substitute for your own boots on the ground. If you can't make it to the US Virgin Islands to pursue your goals personally, you can trust me to act on your best interests so you can buy, sell, or invest in St. Thomas real estate remotely.
Let Me Be the First to Welcome You to the Virgin Islands
I look forward to helping you fulfill your real estate ventures on St Thomas in the US Virgin Islands. To get started, talk to me today at 340-690-9995 or contact me at barbara(at)seaglassproperties(dotted)com.