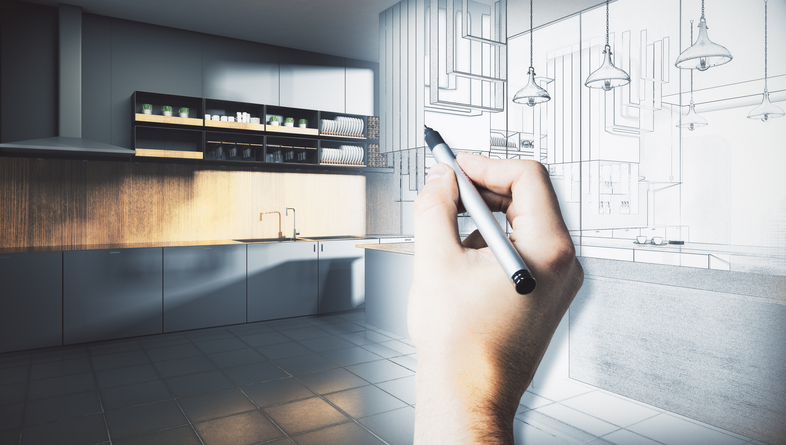 As the heart of the home, the kitchen has moved past its functionality. Today, the kitchen is a place where families spend time together, hang with neighbors over coffee, and entertain guests.
As such, the kitchen should now be given as much decorating care as the rest of the rooms in the house. Here are several new design ideas to serve as inspiration in transforming the heart of your home:
Creative use of colors

You don't have to paint your whole kitchen electric teal to give it personality. You can go neutral and add a pop of color where you see fit. Incorporate some brightly hued accents and cabinetry. Or get darker toned kitchen ware and appliances.

Pastel creates a light and vibrant feel. For elegance and sophistication, use bold jewel tones. A single color in different shades creates depth and keeps your kitchen interesting.

New take on classic white

If color isn't something you're into, put a twist on classic white. A white glass backsplash will give your kitchen a calm and fresh vibe without making it feel sterile. Countertops with glossy finishes or cabinets with silver, gray, or gold accents can also give your kitchen some oomph.

If you live in the Virgin Islands, natural elements like stone floors or butcher block counters are a no-brainer. Incorporate greenery like potted herbs and plants to match the tropical outdoors.

Create a customizable space

Because of the kitchen's many uses, creating the perfect one that meets all your needs may be a bit difficult. With a customizable multi-user kitchen, however, you can reconfigure the space to fit changing needs.

A customizable kitchen has movable work surfaces, extractable tables, and counters with adjustable heights. You can also have changeable storage on kitchen islands. Whether you're having guests over or getting some cooking done, you can literally reconfigure your kitchen as needed.

Have fun with contrasts

Combine colors and styles. Match light-colored walls with darkly tinted floors. Or mix industrial elements with wood. Conversely, you can modernize a rustic design with stainless steel appliances and fixtures. Browse the internet to see how materials like wood, stone, metal, and tile can be mixed and matched.

Get creative with your backsplash

Your backsplash can make a big difference when it comes to your kitchen's overall look. Make the space look more vibrant and fun or elegant and refined with the right material and style. Exercise the full extent of your creativity when it comes to designing the perfect backsplash for your kitchen.

Try using oversized glass tiles tinted in mint green to achieve that airy, nature feel. Or opt to make a statement with pattern or a bold graphic. You can even utilize reclaimed wood, black glass, and other unique materials.
Looking for a home that has the kitchen of your dreams? Discover the many homes for sale in the US Virgin Islands. Get in touch with an expert Realtor in St Thomas, USVI at Sea Glass Properties today. Give a call to (340) 690-9995 or send a message to Barbara(at)seaglassproperties(dotted)com.